SALT LAKE CITY — All Utah adults will be eligible to schedule an appointment for the COVID-19 vaccine starting March 24, Gov. Spencer Cox announced Thursday.
Utahns ages 16 to 18 will only be eligible to receive the Pfizer vaccine, which is the only vaccine that has received federal approval for that age group thus far, Cox added during a news conference.
The governor stressed that there will not be enough doses of the vaccine by March 24 to keep up with demand. People will be eligible to make an appointment for the vaccine next week, but their appointments may still be several weeks out, he added.
"We know we need to do better," Cox said. "We need more vaccine to make that happen."
The eligibility expansion will happen sooner than the previous expected date of April 1, and it comes at the request of local health departments to broaden eligibility sooner than previously planned, the governor said.
The state has implemented a vaccination roadmap for underserved populations, such as multicultural communities and homeless individuals. That process includes sending mobile vaccination units into multicultural and rural communities that otherwise don't have enough access to the vaccine.
When those mobile units get sent to those areas, it's easier for vaccine administrators to simply offer doses to as many people as possible instead of worrying about their age or health status or another eligibility factor, Cox said. The expansion to everyone next week will make things easier for those situations, so health districts and community partners requested the governor make the change, he said.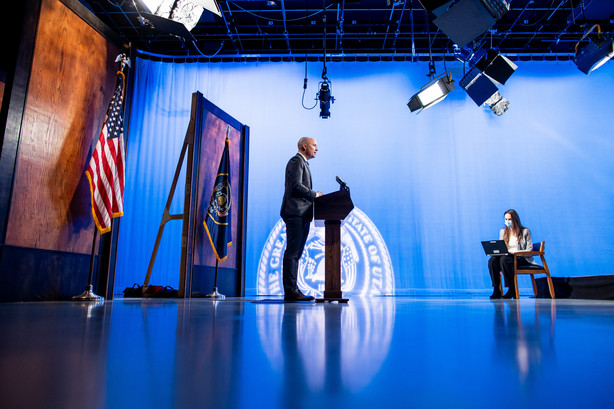 Health officials have said 70-90% of a given population needs to be vaccinated for herd immunity to be reached. Cox said Utah won't be able to achieve herd immunity if the majority of the state is vaccinated, but pockets remain in those underserved populations where only 30-40% of people have received the vaccine.
The state has administered 140,000 vaccine doses over the past week, and 87% of Utahns aged 70 and over have received at least one dose, Cox said Thursday. A large number of people under the age of 50 who have underlying health conditions have also received a dose, he added.
Utah is expecting a large increase in its vaccine allocation toward the end of March and into April as Pfizer, Moderna and Johnson & Johnson all are set to ramp up the production of their respective vaccines, Cox said.
"We are really happy with where things are right now," the governor added.
---
Utah Gov. Spencer Cox provided a COVID-19 pandemic update at a PBS Utah news conference Thursday morning. Watch the replay of the event below.
---
Governor clarifies stance on pandemic 'endgame' bill
Cox clarified Thursday that he hasn't yet signed HB294, the controversial COVID-19 pandemic "endgame" bill that sets an April 10 deadline for an end to Utah's statewide mask mandate. The bill passed through both bodies of the Utah State Legislature earlier this month with a veto-proof majority.
Cox has until next Thursday to sign bills that passed in this year's legislative session. He's previously said he doesn't like the "endgame" bill and would prefer that more Utahns become vaccinated before mask mandates lift. Technically, he governor could still veto HB294, which would force the state Legislature to reconvene and vote on it again to override him before the bill becomes law.
However, Cox agreed not to do that in negotiations with the Legislature, he revealed Thursday. During the legislative session in March, he believed there was enough support among legislators to end the mask mandate immediately. He negotiated with legislators to delay the mask mandate lift another month to April 10, and as part of those negotiations he agreed not to veto the bill.
But Cox, before complaining that he had answered the same question on the mask mandate bill 50 times, added that he hasn't signed the bill yet, and anything can happen up until next Thursday. He wouldn't say specifically what would cause him to go back on his word and veto the bill, though.
"That's how the negotiation works," Cox said. "Lawmaking isn't pretty… There are always give-and-takes."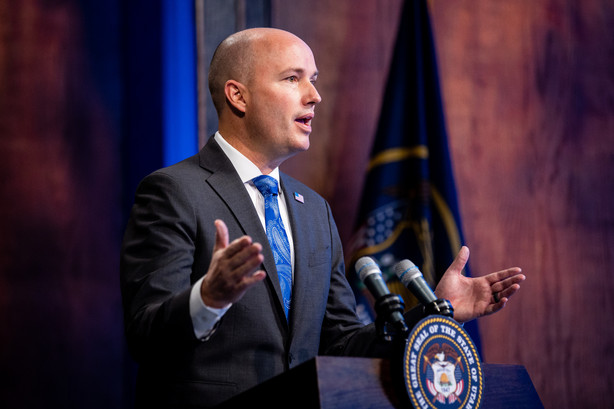 The governor said his office will continue to encourage Utahns to voluntarily wear masks until everyone in the state is vaccinated. He pointed out that mask mandates will remain in effect after April 10 for K-12 schools in Utah and for gatherings of more than 50 people. Private businesses will also be able to require masks for patrons inside their establishments.
In the coming weeks, Utahns will need to decide what they're comfortable with doing as the end of the pandemic nears, Cox said. People should have respect for those whose comfort levels are different from their own.
"We're all going to have to make those decisions," Cox said.
New COVID-19 cases
Utah's number of COVID-19 cases increased by 560 on Thursday, with five more deaths and 25,312 vaccinations reported, according to the Utah Department of Health. The health department estimates there are now 11,281 active cases of the disease in Utah.
The rolling seven-day average number of positive cases per day is now at 484, according to the health department. The positive test rate per day for that time period reported with the "people over people" method is now 8.4%. The positive test rate per day seven-day average calculated with the "test over test" method is now 4.2%.
There are now 189 COVID-19 patients currently hospitalized in Utah, including 63 in intensive care, state data shows. About 72% of all intensive care unit beds are now occupied in Utah, including about 75% of ICU beds in the state's 16 referral hospitals. About 54% of non-ICU hospital beds are now occupied, according to state data.
A total of 1,080,039 vaccine doses have been administered in the state, up from 1,054,727 Wednesday. A total of 714,049 Utahns have now received at least one vaccine dose, while 394,004 are fully vaccinated, state data shows. A total of 1,258,310 vaccine doses have now been shipped to the state.
The new numbers indicate a 0.1% increase in positive cases since Wednesday. Of the 2,314,764 people tested for COVID-19 in Utah so far, 16.4% have tested positive for the disease. The number of total tests conducted since the pandemic began is now at 4,066,552, up 16,975 since Wednesday. Of those, 7,526 were tests of people who hadn't previously been tested for COVID-19.
The five deaths reported Thursday were:
Two Salt Lake County women who were between the ages of 65 and 84 and were hospitalized when they died
Two Utah County women who were over the age of 85, one hospitalized when she died and the other not hospitalized
A Wasatch County man who was between the ages of 45 and 64 and was hospitalized when he died.
One death that was previously included on the total Utah COVID-19 deaths list has been removed from the list after further investigation, health officials said.
Thursday totals give Utah 380,340 total confirmed cases, with 15,223 total hospitalizations and 2,041 total deaths from the disease. A total of 367,018 Utah COVID-19 cases are now considered recovered, according to the health department.
Carbon and Summit counties have moved to the moderate transmission level under Utah's transmission index system, according to Cox. Duchesne and San Juan counties have now moved to the low transmission level.
Five counties remain at the high transmission level: Beaver, Emery, Garfield, Kane and Uintah. Six are at the low transmission level: Daggett, Duchesne, Piute, Rich, San Juan and Wayne. All other counties in the state are rated at the moderate transmission level.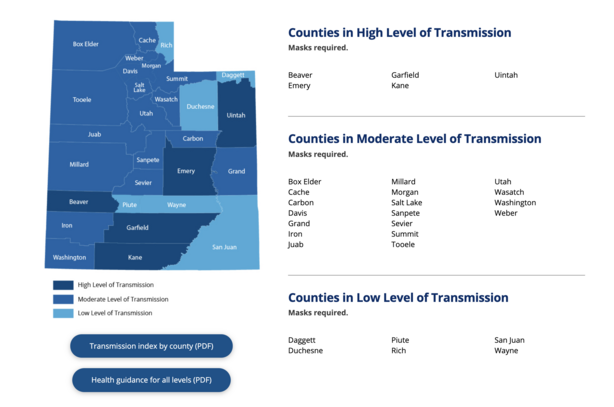 Combatting vaccine hesitancy
Cox said local health departments and community partners are ready to "just go to town" and vaccinate as many people as possible when eligibility expands next week.
"It will significantly help them with the equity piece of this… they're champing at the bit ready to go," Cox said.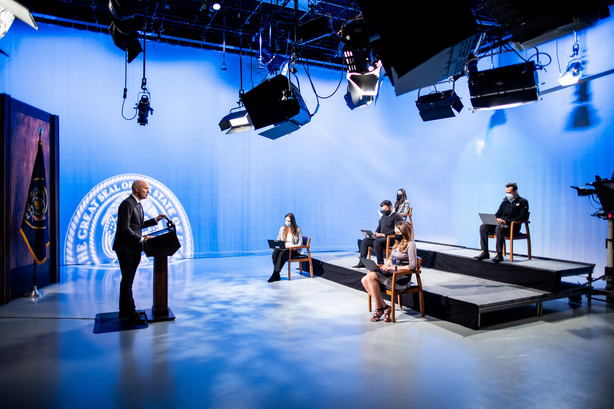 The new eligibility will not only help improve the equity of vaccine distribution in underserved populations, but will also help combat vaccine hesitancy among multicultural and rural communities, where convincing people to get the vaccine has been a struggle, the governor said.
His main concern is convincing people who remain skeptical of the vaccine to get it, Cox said. People might see COVID-19 cases and hospitalization rates going down and think they don't need to be vaccinated, but everyone should still make an appointment as soon as they're eligible to do so, the governor added.
The state's messaging over the next few weeks will focus on showing people that if they want things to get back to normal in Utah, the best thing to do is to get the vaccine, Cox said.
"My message to them is: Just do it, guys," he said.
×
Photos
More stories you may be interested in